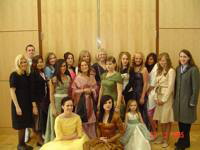 Sew Trendy is a specialized program created in the 2004-2005 school year under a unique and exclusive partnership between the now defunct Home Sewing Association (HSA) and the Family, Career and Community Leaders of America, Inc. (FCCLA) and is intended to involve select high schools and their communities in a year long sewing and design project.
At the beginning of the school year, students are invited to join and participate in the Sew Trendy program. Students are responsible for creating or embellishing a sewn item from either the fashion or home décor arenas. The individual submissions are then judged and awarded in a Scholastic Style Fashion Show in the Spring. There are a select number of categories of submission based on students' skill and design levels and individual interests. Prizes are awarded in each category.
Goals and Objectives
To engage students in the Sew Trendy program, aimed to teach students about the art, importance, and enjoyable and rewarding nature of sewing

To enhance the image of sewing as a compelling and dynamic life skill

To involve the participating communities in the Sew Trendy program by encouraging their support in the form of product donations and services and time. Local community leaders may be asked to serve as judges for the final competition, thus raising the profile of the school and the Sew Trendy program.

To produce a positive and measurable outcome for an individual school or community in the form of new sewing enthusiasts, a successful extracurricular program, heightened awareness of school activities within the local community, increased support of schools by local businesses and programs, and possible beneficial coverage in local print and broadcast media.
Benefit to Students, Schools and Communities
Students are engaged in an absorbing day-to-day activity that demonstrates the importance of learning and perfecting a skill, the encouragement to use their creativity, and the reward of a finished product that receives local attention and support.

Students benefit from an increased self-esteem.

Schools enjoy an increased support via an ongoing sewing program for students.

Community businesses and leaders are invited to support and participate in the program in a variety of ways, thus nurturing stronger affiliations among the school and its environs.